Amazon has cemented its position as the undisputed leader in the E-commerce sector in the MENA region, thanks to its strong customer base in countries like Saudi Arabia, the UAE, and Egypt. Amazon's entry into the MENA market was facilitated by Dubai-based souq.com, an already established internet retailer, which it acquired later. By redirecting visitors from souq.com to the amazon.ae website, Amazon was able to establish a stranglehold on the online retail market. The company now not only dominates several marketplaces but is also contributing to the rising popularity of online shopping in the MENA region, especially in the UAE. With around 28 million registered users, Amazon UAE is undoubtedly the best shopping center worldwide to increase sales. This is not surprising given that Dubai, where Amazon UAE is headquartered, is a global center for commerce and retail, with a highly efficient purchase process. 
The UAE's E-commerce market is forecast to grow 60% to more than $8 billion by 2025. According to a report by Statista, in the UAE, Amazon is the leading E-commerce platform, used by over 43.6% of the online shoppers, followed by Noon, at 16.9%. 64% of the online shoppers spend around 100 AED per purchase, and 40% of them believe that their spending on Amazon and other E-commerce platforms will increase in the forthcoming years.
Amazon ranks higher than the other E-commerce platforms for consumer shopping preference. Further, Amazon is being used as a search engine by consumers in the MENA region, with users looking at prices, reviews, descriptions, and products that they couldn't find in-store. Amazon also aided product and brand discovery, with consumers purchasing products that they never previously did through Amazon. To add to that, consumers are buying more products that aren't locally available, increasing the sales of goods sold through overseas shipping.
There are multiple benefits to selling your products in the MENA region. Firstly, the Middle East region is experiencing rapid economic growth, with countries like Saudi Arabia and the United Arab Emirates investing heavily in technology and infrastructure. As a result, there is a growing middle class that has higher disposable incomes and is looking for new products to buy. Secondly, Amazon already has a built-in customer base, and by listing your products on the platform, you can reach your target audience without having to spend a lot of money on advertising. Finally, consumers in the MENA region are increasingly turning to online shopping, presenting an opportunity for D2C brands to expand their business and tap into this growing market.
From these facts and figures, it is evident that the E-commerce marketplace in the Middle East, especially the Amazon storefront, is a lucrative one, and launching a D2C product or brand in such an environment would greatly help boost sales and revenue. Through cross-border shopping, even before a brand is locally available, it is possible to acquire new customers making use of these online marketplaces. One can monitor the demand for certain product categories or specific products, accordingly releasing them to the local market. 
Furthermore, it is advisable to release D2C products using Amazon as a platform. Consumers prefer shopping from Amazon due to the wide variety of products available, and the information they require about it. They are more likely to buy new, innovative products through Amazon. By attracting clients who seek quick shipping and wish to use premium services like Amazon Prime, a local Amazon presence may also aid in increasing sales. 
To utilize the maximum potential of selling on digital marketplaces, brands should maintain a distribution partner with expertise in selling on E-commerce platforms like Amazon and Noon.
Assiduus is an E-commerce accelerator with extensive experience in selling products on Amazon and Noon, among other platforms, in the MENA marketplace. We provide a high-end tech-stack, along with an end-to-end E-commerce solution for your brand. Right from understanding and following the compliance requirements in the region, to optimizing your product listings, we handle all the aspects of the Amazon storefront aspect. Simultaneously, we help you get the best rates to ship into the region with our shipping platform, handling distribution and warehousing, using our proprietary warehousing and order management systems. We are currently working with many brands in the region, successfully launching their product into new marketplaces. 
Choosing Assiduus as your partner to scale your D2C brand to the UAE marketplace would be ideal to grow your brand and product awareness, and will increase sales and revenue significantly. Our experience in the MENA marketplace makes us the perfect partner for brands looking to expand their business in this region. We can help you understand the market, optimize your product listings, and handle distribution and warehousing, allowing you to focus on growing your business.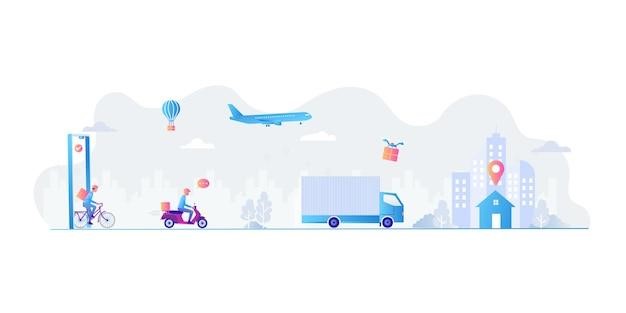 How to implement intelligent supply chain management?
Goods can be fitted with monitoring devices that allow CPG (consumer packaged goods) corporations and retailers to trace them along the supply chain, including manufacture, storage, and transportation until they reach the end-user. The information gained will help with purchasing and selling cycles, as well as how often inventory should be refilled and how much should be kept on hand. Automated hardware solutions, such as autonomous mobile robots (AMRs) and automated conveyor systems, can also be installed.
There is a common misconception that automation of tasks like these would evict human beings from their current job positions and limit the total job opportunities. On the other hand, these autonomous solutions are only a complement for employees, allowing them to focus on higher-level duties while increasing job accuracy and efficiency.
However, the successful adoption of intelligent supply chain management is hampered by fear and inadequate change management. Brands are concerned about the hefty initial capital investment, productivity interruptions, time delays, and data implications. However, the intrinsic problem-solving nature of the new technologies, as well as their effective profitability, render these issues inconsequential. Additionally, the advanced algorithms that are used in intelligent supply chains are in play, allowing continual improvement through embedded intelligence without disturbing the ongoing operations.
Retail and manufacturing enterprises should no longer be considered separate entities from the supply chain. Intelligent supply chains necessitate a link between everything in the warehouse, distribution centre, storefront, and e-commerce portal. To ensure customers have what they want at any location and at any time, all areas of the operation must be integrated using connected networks and troves of data to exchange information and reroute orders as needed. This allows for better forecasting, decision making, cost control, and overall efficiency. Retailers and manufacturers may both profit from the data produced in the supply chain by immediately making changes and discovering inefficiencies that need to be rectified.
However, intelligent supply chain management still has a long way to go. Once completely optimized, they should be able to deliver to customers at the best cost, in the shortest time possible, with maximum efficiency, providing them with the entire value chain. Making smarter decisions, utilising better modern technologies, and obtaining actionable insights into operations via the use of a huge quantity of data are all features of intelligent supply chain management.
Intelligent supply chain management simply means making better judgments, utilising more modern technologies, and gaining actionable insights into operations by utilising a large amount of data. It is something to look out for, and if you want to get ahead of your competition, it is something you should look at implementing and incorporating into your business as soon as you can.