"Kudos to you on your new brand launch. Sent out a few pictures to friends and family on WhatsApp and got applauded? That's great! But not sure where to sell or how to scale your business? Undecided where to sell, on a marketplace, via website or Instagram? Let us help you out."

Assiduus
Let's first understand how an E-commerce website, a marketplace and social media storefronts are different from each other.
If there's one thing the past two years have hammered home, it's that nothing is certain. Business owners and consumers alike have demonstrated a vast capacity for resilience. The E-commerce retail sales in 2021 were at about $4.9 trillion and are projected to increase to $6.8 trillion in the next 2 years. This is the perfect time for entrepreneurs to launch E-commerce businesses.
An E-Commerce website is a platform that you can use to list and sell your products. This is your website and will include only your products. Yes, we are talking about exclusivity.
A Marketplace is an online shopping platform where products are sold by multiple sellers. Shoppers can buy products from multiple sellers and pay for them all together at checkout. Yes, Amazon, Walmart, and Etsy are marketplaces.
Social media storefronts are fairly new. Shoppers can buy directly from posts with a simple checkout page.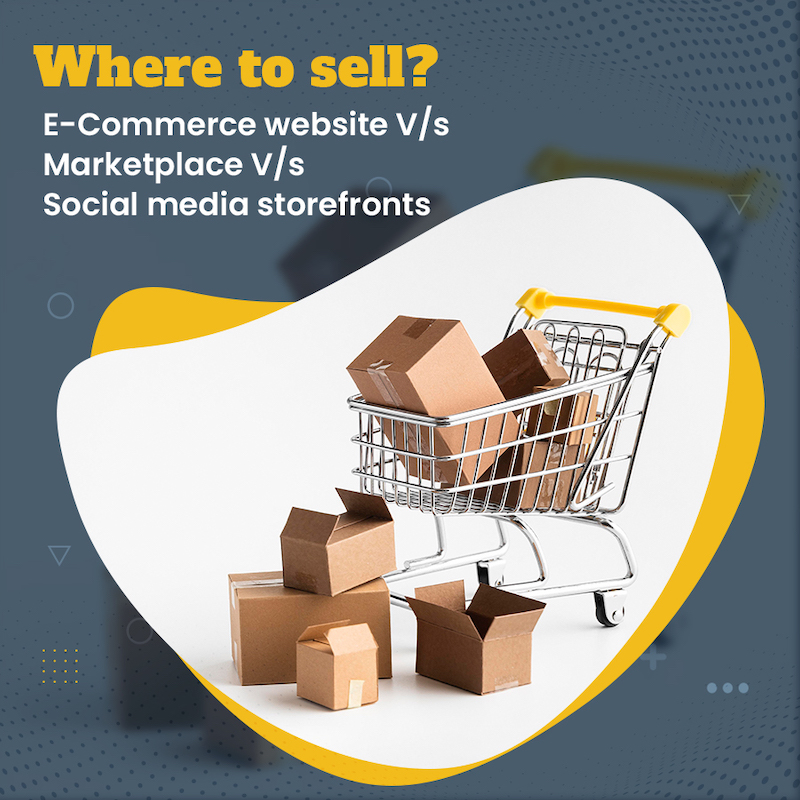 Having your D2C website is exciting. You can see shoppers in real-time leveraging analytics. All the data and control are in your hands. 
Here's a look at the top benefits:
1. You own the data  – From customer details including email addresses to repeat purchases. You can leverage this data for building lookalike audiences, custom targeting marketing campaigns, marketing campaign management, re-targeting, or sending personalised emails. P.S. Do not forget to add the Opt-in options and consents before sending our emails.
2. You are in control – You are in complete control and can present your brand the way you want. Remember a rose is a rose no matter what name you call it by.
3. No commission  – Yes, all the money you get is yours…
Getting traffic to your E-Commerce website is the biggest challenge – You need to invest heavily in social media marketing and advertising. There is limited space on the user's phone and you need to bid for it. Keep in mind a user on Facebook or Instagram is interested in engagement and is not, on the first go, on the site to make a purchase. 
You are responsible for shipping. You have to find the right shipping partners, understand warehouse and logistics, and be ready to handle returns. Remember with great access to data, comes great responsibility.
The average Acos (or acquisition cost) is 20 to 25% higher on your own D2C E-Commerce website.  
Ok, so what about marketplaces?
Marketplaces are where the user is always a shopper. They are not browsing. The marketplace is definitely an easier option for selling your products online, especially for startups
Here are some of the benefits: 
1. Ease of launch  – Selling on Marketplaces is easy. All you have to do is create your account, add in all necessary details and start selling. 
2. Access to global audiences  – Yes, you can expand your E-Commerce business cross-border with programs such as AMS marketing solution. This program allows businesses to sell across the globe from their home country.
3. Low cost of advertising  – Marketplace has an audience that visits their site to browse and buy products on a regular basis so no additional marketing is required from your side to attract more customers.
4. Access to warehouse  – With Amazon, you can leverage FBA and store some of your stock in their warehouses.
5. Access to shipping –  Most marketplaces take care of last-mile delivery and shipping so that you can focus on doing what's best. No, we are not talking about binge-watching Netflix (well, you could do that too), but about building great products.
30% of users browsing your product end up purchasing it.
But…there is a large chunk of platform fees. Amazon platform fees can range anywhere from 8% to 22% based on the product category, geography, weight and more. Your net realization in the marketplace will always have these deductions. This is something very crucial you need to bear in mind.
Here, Assiduus Global plays a crucial role. We understand how to leverage this data using our patent-pending tools. Starting from understanding buyer behavior to missed opportunities, we specialize in building campaigns leveraging this intelligence. 
While you can store some of your inventory with Amazon, the space is limited. Here's where Assiduus can help with access to warehousing. Our warehouses are recognized by marketplaces and can act as fulfillment centers. 
So, what's best for your business?
The past two years have been a boon for the E-Commerce and digital industry. In 2020 Amazon saw an increase of 26% in new customers. Luxury brands such as Louis Vuitton started selling on their website. 
Indeed, wheels have turned and great times lie ahead. 
If you are a startup, we recommend launching on marketplaces and then moving on to your own E-Commerce website. If you are looking to expand your business across borders and geographies, marketplaces are the way to go. And yes, Assiduus can help you with all of it. After all, we are the world's fastest-growing cross-border cross-marketplace E-Commerce accelerator. 
Happy selling to you!